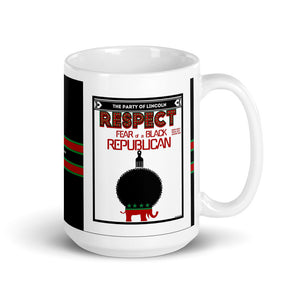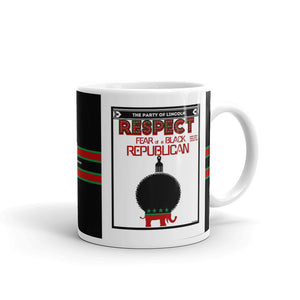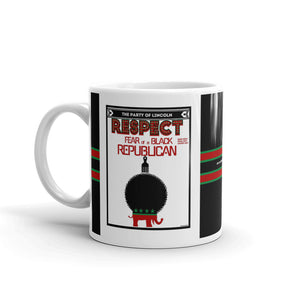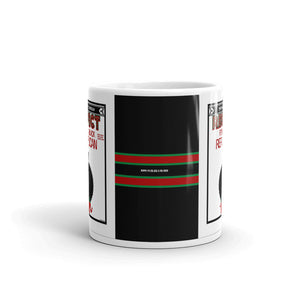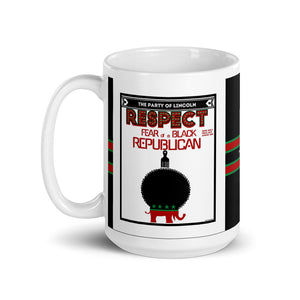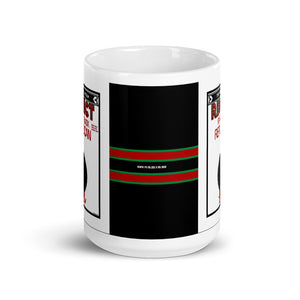 FEAR OF A BLACK REPUBLICAN - "RESPECTIBILI-TEES" COMIC, ISSUE #4 - Designed by SOUL BE IT! 
THE STORY BEHIND THIS DESIGN:  ISSUE #4 of "RESPECTIBILI-TEES", a comic cover collection inspired by the work of Pop Art legend Roy Lichtenstein.  This piece was directly inspired by the people's need for tangible change that can be seen and felt, and critically thinking about who and what is best for them and their future in this world!  Free your mind and your ass will follow!  Sometimes freeing your mind means stepping outside your comfort zone and exploring new and different ways of thinking and believing.  It can also inspire you to demand the change that is so often promised, but never delivered…..
UNIQUE, IN HOUSE, CUSTOM DESIGN for "RESPECTIBLI-TEES" BY SOUL BE IT!
SPECIFICATIONS: Whether you're drinking your morning coffee, evening tea, or something in between – this mug's for you! It's sturdy and glossy with a vivid print that'll withstand the microwave and dishwasher.
• Ceramic
• Dishwasher and microwave safe
• White and glossy
Every soul is original...just like our products! Your Soul Be It original product is manufactured to order and shipped immediately! Because we use international partners to ensure the best pricing, please allow up to 4 weeks for delivery! If you have any questions, email us at info@soulbeitllc.com!