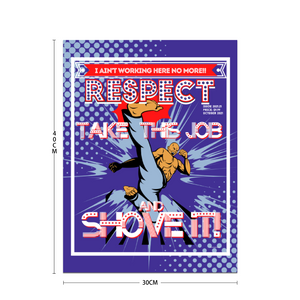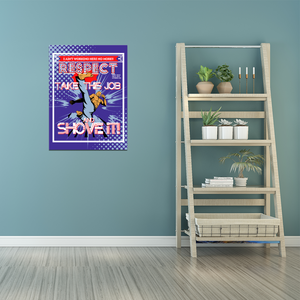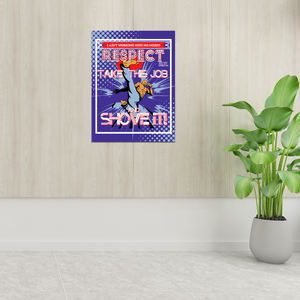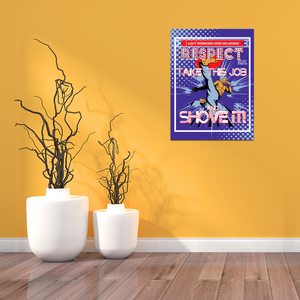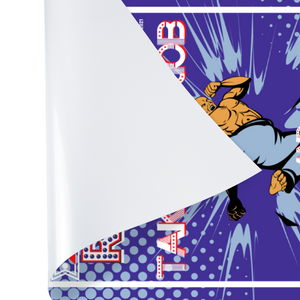 Take This Job and Shove It! - RESPECTIBILI-TEES Comic Cover, Issue #21, Designed by Soul Be It!!
THE STORY BEHIND THIS DESIGN: ISSUE #21 of "RESPECTIBILI-TEES", a comic cover collection inspired by the work of Pop Art legend Roy Lichtenstein.
This piece was directly inspired by the Great Resignation! The pandemic changed a lot about the way we do things in this world. Once upon a time we lived normally going to work for corporations. Our children went to school and participated in extra curricular activities. The shutdown and shelter in place mandates of 2020 changed people's minds about how they live their lives. Our thinking and means of survival changed and eliminated the illusion of relying on a corporation for a quality life. Hats off to the brave souls who took the leap of faith and decided to tell their employers to: TAKE THIS JOB AND SHOVE IT!

UNIQUE, IN HOUSE, CUSTOM DESIGN for "RESPECTIBLI-TEES" BY SOUL BE IT!
SPECIFICATIONS:
Custom Photo Paper Poster 12" x 16"
· [Material]:  Paper
· [Size]:  30cm x 40cm (12" x 16")
· [Print Position]:  Single-sided printing
· [Type]:  Paper poster
· [Occasion]:  Suitable for any family, bedroom, office decoration, dormitory, classroom or gym. It is a great gift for family, friends or yourself.
· [Care Instruction]:  It's printed with water-based ink and the surface of this poster is coated with a film, which is not UV-proof, not waterproof. Do not expose to the sun.
About this Item
· Expression of your sense of art
It's a simple beautiful wallpaper that can enhance the sense of art around your living.
· High-quality printing
The water-based ink provides long-lasting images. It's suitable for personal or commercial use. Custom the unique wallpapers.