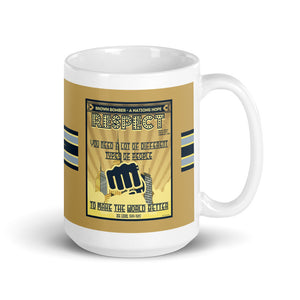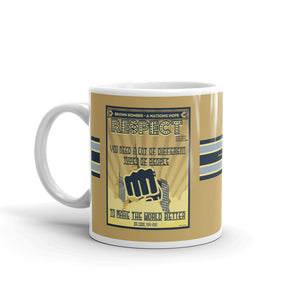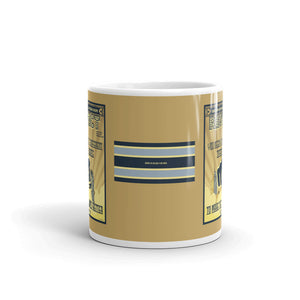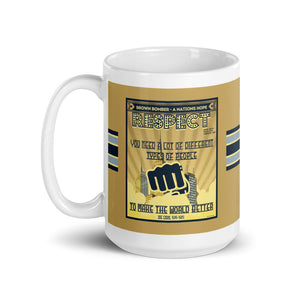 JOE LOUIS, BROWN BOMBER - "RESPECTIBILI-TEES" COMIC COVER, ISSUE #14 - Designed by SOUL BE IT! 
THE STORY BEHIND THIS DESIGN:  ISSUE #14 of "RESPECTIBILI-TEES" - a comic cover collection inspired by the work of Pop Art legend Roy Lichtenstein. This piece was directly inspired by the Brown Bomber himself, Joe Louis! Much like his might in the ring, Joe Louis was an opponent of Jim Crow laws.  Joe Louis was one of the first along with Jesse Owens in modern history to confirm who the master athletic 'Gods' of this planet are, dispelling Hitler's nonsensical theory of 'racially perfect' athletes. Joe Louis was a mighty warrior in the ring and a champion for justice and equality!
UNIQUE, IN HOUSE, CUSTOM DESIGN for "RESPECTIBLI-TEES" BY SOUL BE IT!
SPECIFICATIONS:  Whether you're drinking your morning coffee, evening tea, or something in between – this mug's for you! It's sturdy and glossy with a vivid print that'll withstand the microwave and dishwasher.

• Ceramic
• 11 oz mug dimensions: 3.85″ (9.8 cm) in height, 3.35″ (8.5 cm) in diameter
• 15 oz mug dimensions: 4.7″ (12 cm) in height, 3.35″ (8.5 cm) in diameter
• Dishwasher and microwave safe
• Blank product sourced from China
Every soul is original...just like our products! Your Soul Be It original product is manufactured to order and shipped immediately! Because we use international partners to ensure the best pricing, please allow up to 4 weeks for delivery! If you have any questions, email us at info@soulbeitllc.com!