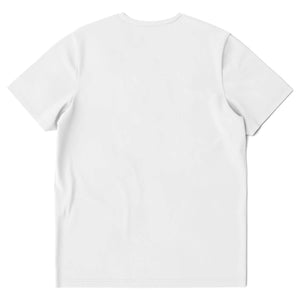 JOE LOUIS - THE BROWN BOMBER - RESPECTIBILI-TEES COMIC COVER, ISSUE #14 - Designed by SOUL BE IT! 
THE STORY BEHIND THIS DESIGN:  ISSUE #14 of "RESPECTIBILI-TEES" - a comic cover collection inspired by the work of Pop Art legend Roy Lichtenstein. This piece was directly inspired by the Brown Bomber himself, Joe Louis! Much like his might in the ring, Joe Louis was an opponent of Jim Crow laws.  Joe Louis was one of the first along with Jesse Owens in modern history to confirm who the master athletic 'Gods' of this planet are, dispelling Hitler's nonsensical theory of 'racially perfect' athletes. Joe Louis was a mighty warrior in the ring and a champion for justice and equality!
UNIQUE, IN HOUSE, CUSTOM DESIGN for "RESPECTIBLI-TEES" BY SOUL BE IT!
SPECIFICATIONS:  This unisex essential tee fits like a beloved favorite.
Featuring a crew neck, short sleeves, and a premium 100% polyester fabric with a cotton handfeel, and high definition printing that won't fade after washing.
100% polyester
Crew neck
Premium polyester knit 190gsm jersey
High definition printing
Regular fit
| Inches | XS | S | M | L | XL | 2XL | 3XL | 4XL |
| --- | --- | --- | --- | --- | --- | --- | --- | --- |
| 1/2 Chest 1" below armhole | 18½ | 19½ | 20½ | 21½ | 22½ | 23½ | 24½ | 25½ |
| Body length: from h.p.s. | 27½ | 28½ | 29½ | 30½ | 31½ | 32½ | 33½ | 34½ |