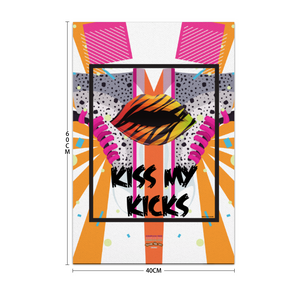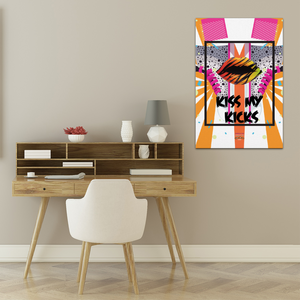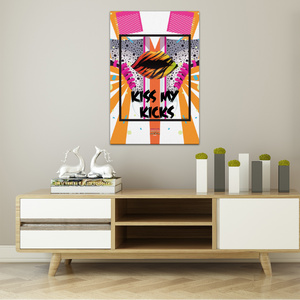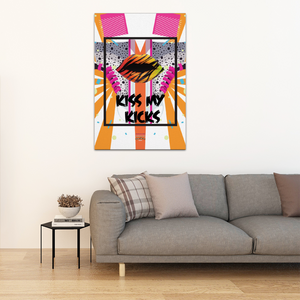 KISS MY KICKS - "COMPLEXI-TEES" Designed by SOUL BE IT! 
THE STORY BEHIND THIS DESIGN:  Invented for athletics, sneakers eventually became status symbols and an integral part of street style, all over the world.  Hip Hop established this aesthetic. The streets ran with it and the corporations who thought they were just making sneakers soon followed and the trend exploded.  RUN DMC said it best…."My ADIDAS, walk through concert doors, and roam all over coliseum floors!", Heavy D paid homage…"Trade in my Nike's, I won't think about it, On my beat the Nike's sleeker, the other kicks are weaker!". Even Nelly sent praises…"Me? I like the limited edition, and khaki, and army green.  Patent leather pin stripe you should see how I do the strings!" This design pays homage to the our ever changing love affair with "KICKS"!
UNIQUE, IN HOUSE, CUSTOM DESIGN FOR "COMPLEXI-TEES" BY SOUL BE IT!
SPECIFICATIONS:
Custom Paintings Wooden Inner Framed Canvas Painting 16" x 24"
· [Material]:  Canvas + Wooden frame
· [Size]:  40cm x 60cm (16" x 24")
· [Print Technology]:  Thermal transfer print
· [Print Position]:  Single-sided printing
· [Type]:  Wooden inner framed painting with hanging hardware
· [Occasion]:  Suitable for homes, offices, hotels, cafes, living rooms, study, bedrooms, restaurants, hallways, and lounges. The perfect gift for friends and family.
About this Item
· Expression of your sense of art
It's a wall decoration of modern minimalist style that can enhance the sense of art around your living.
· High-quality printing
Thermal transfer print maintains beautiful printing with its true color. Custom a framed painting in the style of your room.
· Lightweight with real texture
The pattern is printed on canvas fabric, which provides the texture of an actual oil painting. High-quality canvas has the colors perfectly shown.
Notice
A variety of production factors may cause slight differences between the actual product and the Mock-up, which may be colors, printing position or size.
Every soul is original...just like our products! Your Soul Be It original product is manufactured to order and shipped immediately! Because we use international partners to ensure the best pricing, please allow up to 4 weeks for delivery! If you have any questions, email us at 
info@soulbeitllc.com
!