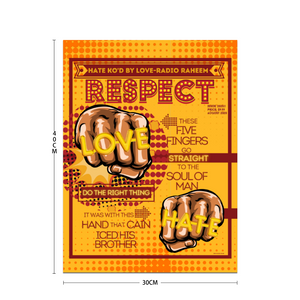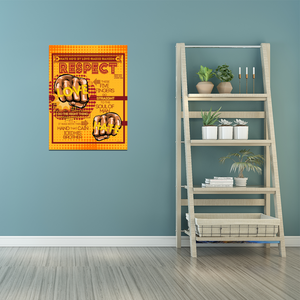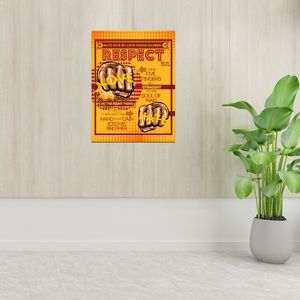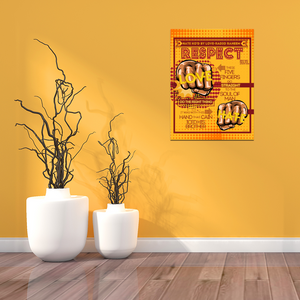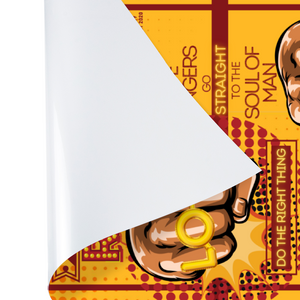 LOVE OVER HATE - "RESPECTIBILI-TEES" COMIC COVER, ISSUE #1 - Designed by SOUL BE IT! 
THE STORY BEHIND THIS DESIGN:  ISSUE #12 of "RESPECTIBILI-TEES", a comic cover collection inspired by the work of Pop Art legend Roy Lichtenstein. "War is not the answer, for only LOVE CAN CONQUER HATE" – Marvin Gaye.  LOVE is the balm that will ease and heal the soul of man. LOVE CONQUERS ALL!

UNIQUE, IN HOUSE, CUSTOM DESIGN for "RESPECTIBLI-TEES" BY SOUL BE IT!
SPECIFICATIONS:
Custom Photo Paper Poster 12" x 16"
· [Material]:  Paper
· [Size]:  30cm x 40cm (12" x 16")
· [Print Position]:  Single-sided printing
· [Type]:  Paper poster
· [Occasion]:  Suitable for any family, bedroom, office decoration, dormitory, classroom or gym. It is a great gift for family, friends or yourself.
· [Care Instruction]:  It's printed with water-based ink and the surface of this poster is coated with a film, which is not UV-proof, not waterproof. Do not expose to the sun.
About this Item
· Expression of your sense of art
It's a simple beautiful wallpaper that can enhance the sense of art around your living.
· High-quality printing
The water-based ink provides long-lasting images. It's suitable for personal or commercial use. Custom the unique wallpapers.