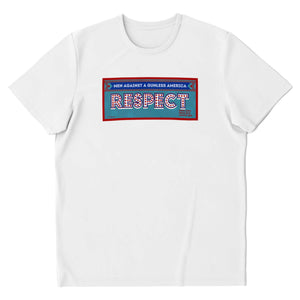 MEN AGAINST A GUNLESS AMERICA – "RESPECTIBILI-TEES" COMIC, ISSUE #6 - Designed by SOUL BE IT! 
THE STORY BEHIND THIS DESIGN:  ISSUE #6 of "RESPECTIBILI-TEES", a comic cover collection inspired by the work of Pop Art legend Roy Lichtenstein.  This piece was directly inspired by today's political climate and the need to fight for freedom, and the right to responsibly bear arms. "A man's rights rest in three boxes:  the ballot box, the jury box and the cartridge box" – Frederick Douglass.  There is no doubt that gun rights are a hot topic with passionate proponents and opponents on both sides, invoking pools of sensitivity and fear fueled by the need to feel safe while operating in the autonomy protected by the constitution.
UNIQUE, IN HOUSE, CUSTOM DESIGN for "RESPECTIBLI-TEES" BY SOUL BE IT!
SPECIFICATIONS: This unisex essential tee fits like a beloved favorite.
Featuring a crew neck, short sleeves, and a premium 100% polyester fabric with a cotton handfeel, and high definition printing that won't fade after washing.
100% polyester
Crew neck
Premium polyester knit 190gsm jersey
High definition printing
Regular fit
| Inches | XS | S | M | L | XL | 2XL | 3XL | 4XL |
| --- | --- | --- | --- | --- | --- | --- | --- | --- |
| 1/2 Chest 1" below armhole | 18½ | 19½ | 20½ | 21½ | 22½ | 23½ | 24½ | 25½ |
| Body length: from h.p.s. | 27½ | 28½ | 29½ | 30½ | 31½ | 32½ | 33½ | 34½ |