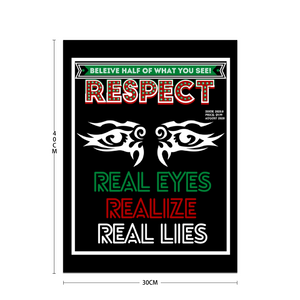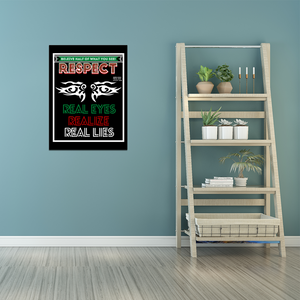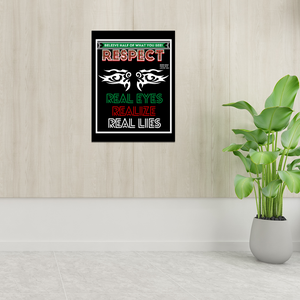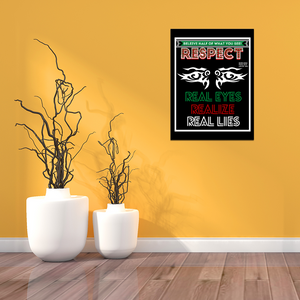 REAL EYES, REALIZE, REAL LIES – "RESPECTIBILI-TEES" COMIC COVER, ISSUE #8 - Designed by SOUL BE IT! 
THE STORY BEHIND THIS DESIGN: ISSUE #8 of "RESPECTIBILI-TEES", a comic cover collection inspired by the work of Pop Art legend Roy Lichtenstein.  Is this world a simulated reality?  Are we really low vibratory atoms manifested in physical form?  Is everything we 'know' a lie?  Wisdom and discernment dispel all myths and creates a clear unobstructed view.  This piece was directly inspired by Rap God Tupac Shakur. His words are so fitting with today's current state of the world in which information comes at us so quickly from all sides at once, and the need for all to operate with wisdom and discernment!
UNIQUE, IN HOUSE, CUSTOM DESIGN for "RESPECTIBLI-TEES" BY SOUL BE IT!
SPECIFICATIONS:
Custom Photo Paper Poster 12" x 16"
· [Material]:  Paper
· [Size]:  30cm x 40cm (12" x 16")
· [Print Position]:  Single-sided printing
· [Type]:  Paper poster
· [Occasion]:  Suitable for any family, bedroom, office decoration, dormitory, classroom or gym. It is a great gift for family, friends or yourself.
· [Care Instruction]:  It's printed with water-based ink and the surface of this poster is coated with a film, which is not UV-proof, not waterproof. Do not expose to the sun.
About this Item
· Expression of your sense of art
It's a simple beautiful wallpaper that can enhance the sense of art around your living.
· High-quality printing
The water-based ink provides long-lasting images. It's suitable for personal or commercial use. Custom the unique wallpapers.