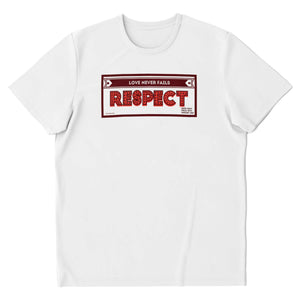 SPREAD LOVE –  LOVE NEVER FAILS "RESPECTIBILI-TEES" COMIC COVER, ISSUE #9 - Designed by SOUL BE IT! 
THE STORY BEHIND THIS DESIGN: ISSUE #9 of "RESPECTIBILI-TEES", a comic cover collection inspired by the work of Pop Art legend Roy Lichtenstein.  Our senses have been overloaded with a lot of violence and hate.  The only way to turn it around is with love.  We must find a way to operate in, hold onto and spread love to everyone, everywhere, all the time. "Hate; It has caused a lot of problems in this world, but it has not solved one yet" – Maya Angelou. LOVE ONE ANOTHER!!
UNIQUE, IN HOUSE, CUSTOM DESIGN for "RESPECTIBLI-TEES" BY SOUL BE IT!
SPECIFICATIONS:  This unisex essential tee fits like a beloved favorite.
Featuring a crew neck, short sleeves, and a premium 100% polyester fabric with a cotton handfeel, and high definition printing that won't fade after washing.
100% polyester
Crew neck
Premium polyester knit 190gsm jersey
High definition printing
Regular fit
| Inches | XS | S | M | L | XL | 2XL | 3XL | 4XL |
| --- | --- | --- | --- | --- | --- | --- | --- | --- |
| 1/2 Chest 1" below armhole | 18½ | 19½ | 20½ | 21½ | 22½ | 23½ | 24½ | 25½ |
| Body length: from h.p.s. | 27½ | 28½ | 29½ | 30½ | 31½ | 32½ | 33½ | 34½ |