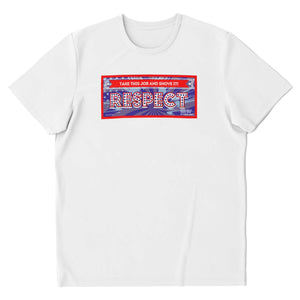 Take This Job and Shove It! - RESPECTIBILI-TEES Comic Cover, Issue #21, Designed by Soul Be It!!
THE STORY BEHIND THIS DESIGN: ISSUE #21 of "RESPECTIBILI-TEES", a comic cover collection inspired by the work of Pop Art legend Roy Lichtenstein.
This piece was directly inspired by the Great Resignation! The pandemic changed a lot about the way we do things in this world. Once upon a time we lived normally going to work for corporations. Our children went to school and participated in extra curricular activities. The shutdown and shelter in place mandates of 2020 changed people's minds about how they live their lives. Our thinking and means of survival changed and eliminated the illusion of relying on a corporation for a quality life. Hats off to the brave souls who took the leap of faith and decided to tell their employers to: TAKE THIS JOB AND SHOVE IT!

UNIQUE, IN HOUSE, CUSTOM DESIGN for "RESPECTIBLI-TEES" BY SOUL BE IT!
SPECIFICATIONS:  This unisex essential tee fits like a beloved favorite.
Featuring a crew neck, short sleeves, and a premium 100% polyester fabric with a cotton handfeel, and high definition printing that won't fade after washing.
100% polyester
Crew neck
Premium polyester knit 190gsm jersey
High definition printing
Regular fit
| Inches | XS | S | M | L | XL | 2XL | 3XL | 4XL |
| --- | --- | --- | --- | --- | --- | --- | --- | --- |
| 1/2 Chest 1" below armhole | 18½ | 19½ | 20½ | 21½ | 22½ | 23½ | 24½ | 25½ |
| Body length: from h.p.s. | 27½ | 28½ | 29½ | 30½ | 31½ | 32½ | 33½ | 34½ |