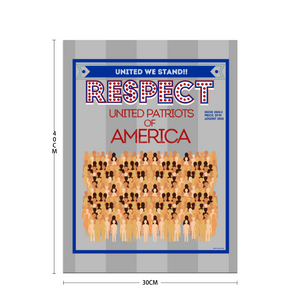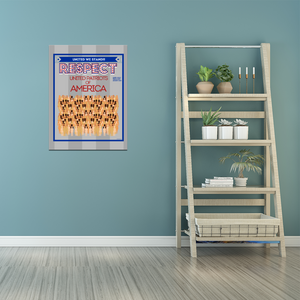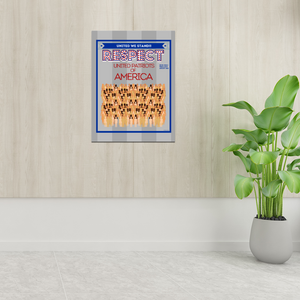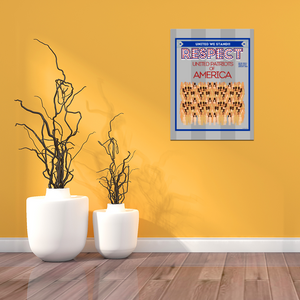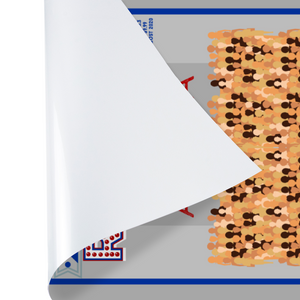 UNITED PATRIOTS OF AMERICA - "RESPECTIBILI-TEES" COMIC COVER, ISSUE #3 - Designed by SOUL BE IT! 
THE STORY BEHIND THIS DESIGN: ISSUE #3 of "RESPECTIBILI-TEES", a comic cover collection inspired by the work of Pop Art legend Roy Lichtenstein.  This piece was directly inspired by the need for all citizens of America to come together and stand united in love and peace! Trouble abounds when we stand divided in pockets of exposure and work within our own self isolating silos.  THE PEOPLE UNITED WILL NEVER BE DEFEATED!!!
UNIQUE, IN HOUSE, CUSTOM DESIGN for "RESPECTIBLI-TEES" BY SOUL BE IT!
SPECIFICATIONS:
Custom Photo Paper Poster 12" x 16"
· [Material]:  Paper
· [Size]:  30cm x 40cm (12" x 16")
· [Print Position]:  Single-sided printing
· [Type]:  Paper poster
· [Occasion]:  Suitable for any family, bedroom, office decoration, dormitory, classroom or gym. It is a great gift for family, friends or yourself.
· [Care Instruction]:  It's printed with water-based ink and the surface of this poster is coated with a film, which is not UV-proof, not waterproof. Do not expose to the sun.
About this Item
· Expression of your sense of art
It's a simple beautiful wallpaper that can enhance the sense of art around your living.
· High-quality printing
The water-based ink provides long-lasting images. It's suitable for personal or commercial use. Custom the unique wallpapers.